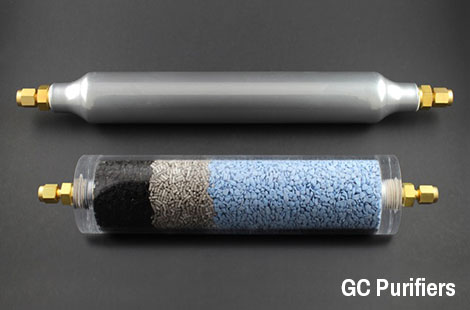 Carrier gases should contain less than 1ppm of oxygen, moisture, or other trace contaminants to prevent column degradation, increase column lifetime, and decrease stationary phase bleed. The expense of using high-purity gases in combination with carrier gas line purifiers will be offset by longer column lifetime and less GC maintenance.
Contaminants cause ghost peaks to appear during temperature programming and degrade the validity of analytical data. Make-up gas also should be contaminant-free, or baseline fluctuations and excessive detector noise can occur. Detector gases should be free of water and hydrocarbons, or excessive baseline noise can result. Gas purifiers remove these contaminants from gas sources, thereby improving system performance.
Brochures
| | |
| --- | --- |
| B013 | VISACON Gas Purifiers |
Useful links
Ghost peaks in gas chromatography - The Carrier Gas and Carrier Gas Lines
..... (Visacon) "In the past we have only offered these products to a handful of the largest chromatography instrument companies. You have probably purchased our products from one of these well-known companies without knowing it was our product.
Originally, we set up our business with one thing in mind - keep the customer happy. We have sold and manufactured our products for over 20 years, and we finally got sick of seeing how much some of the big companies were charging. So, we cut them out. You get the same quality you are used to, but at a much better price."